Are you ready to share your dream with us?
Since 1993 the High Society Orchestra has been helping its clients create the events of their dreams.
It is this concern and attention to detail (along with the special moments created) that has made the High Society Orchestra one of the most sought after high energy dance bands for extraordinary weddings, parties, galas, and corporate events in Chicago and the surrounding area. We do this by providing exceptional musical entertainment designed to match your unique vision. For this reason, we are the Chicago wedding band of choice for great parties and events throughout the Midwest.
---
Energetic Songs That Sound Like You Remember
The band sounded fantastic! At one point I was in the back of the room talking with guests who asked if we had a dj playing songs while the band was on break.
Packing Your Dance Floor
There was not a minute during the reception that the dance floor wasn't packed, with one fantastic song after another keeping everyone on their feet late into the night.
Great Dance Music From Today and Yesterday
There was no song that we requested that they could not play, and play well. When I threw Rascal Flatt's "My Wish" at them for the Mother- Son dance, they did not wince.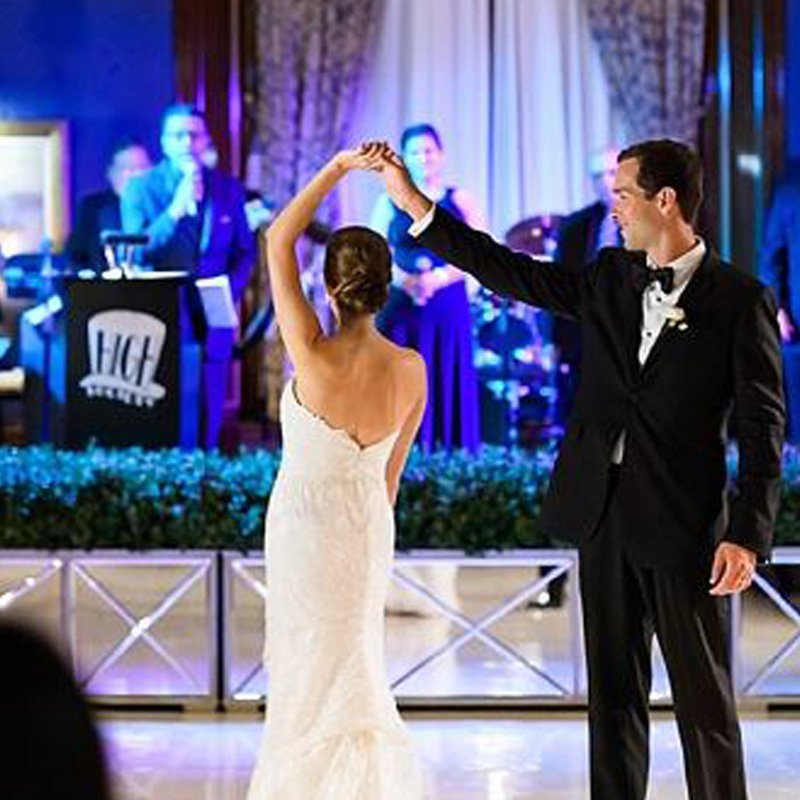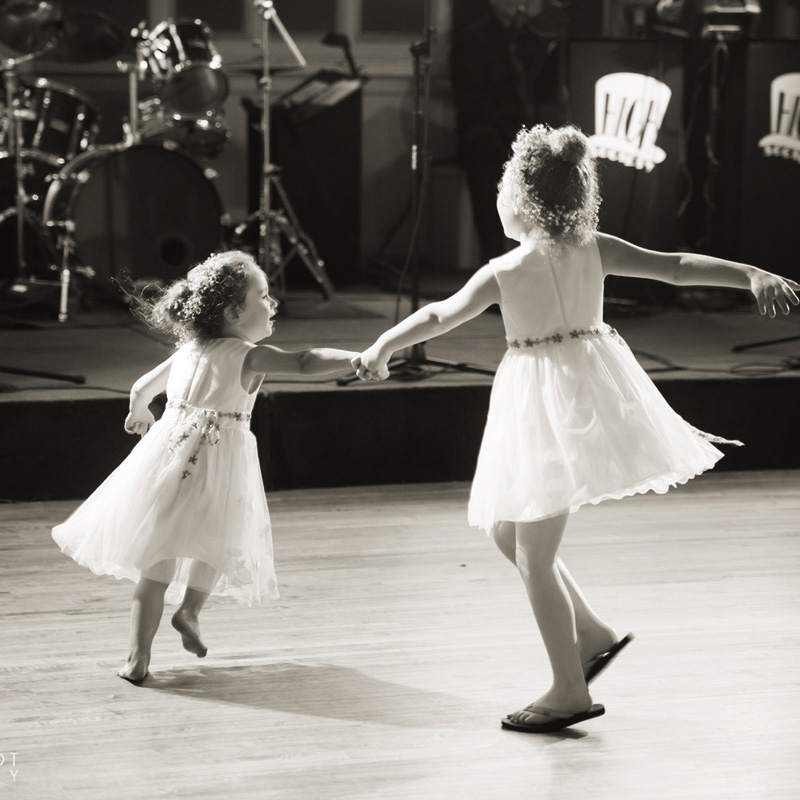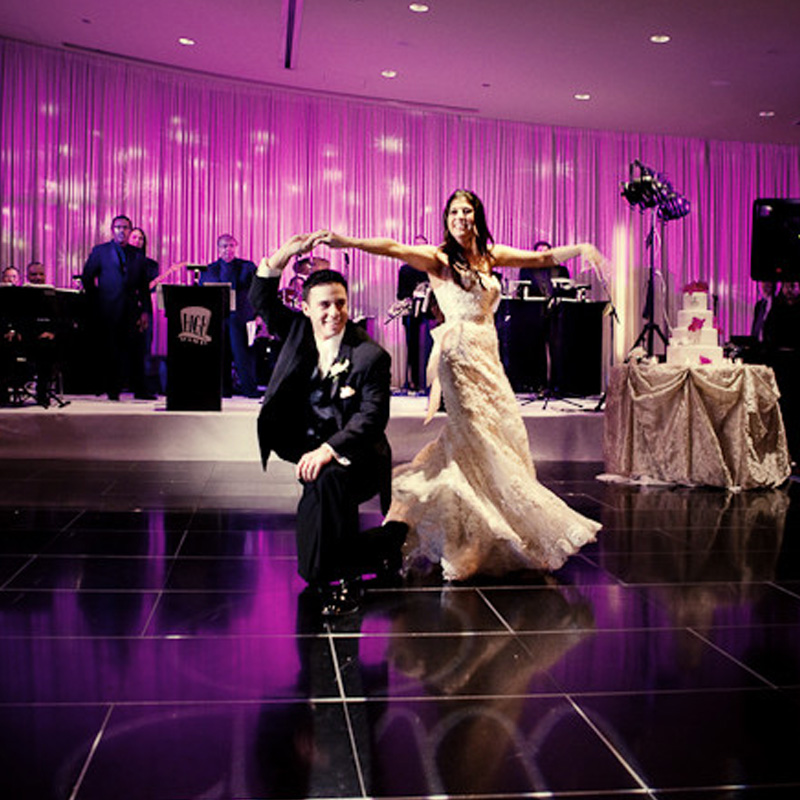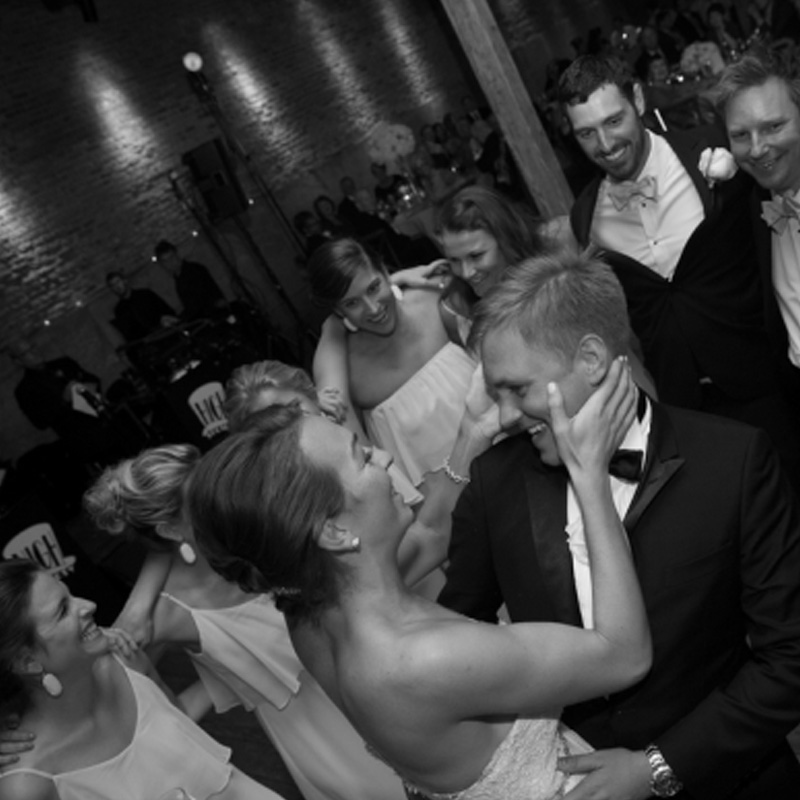 "THANK YOU so much for all that you did to make our daughter's wedding such a huge success! All 700 of our guests still continue to talk about how wonderful you were even though it has been over a month since the wedding. They begged us to have you play even a half-hour longer because no one could get enough. You were AMAZING!!! …We (have) had the opportunity to travel all over the country and watch many nationally recognized orchestras perform at various functions. NONE OF THEM COMPARED TO YOUR ORCHESTRA. You were such a pleasure to work with throughout the wedding preparation process. You were fair, accommodating, and friendly. We are so grateful to have had the opportunity to work with you and hope we have the delight to watch you perform again in the future."

"The High Society Orchestra was the high point of our reception. Not only were they extremely talented, but each member was friendly and polite. Many people have told me that they have never been to a wedding where the dance floor was filled until the end of the evening, as it was at our reception. All ages were out on the parquet 'dancing the night away.'" I would gladly recommend the High Society Orchestra to anyone looking for a fabulous band!"

"We thought the music was absolutely wonderful, and our opinion certainly was not unique. We have received many comments from our wedding guests in the past few weeks noting that it was the best wedding reception that they have ever been to, and the High Society Orchestra keeps coming up as the reason why everyone had such an enjoyable evening. We would wholeheartedly recommend them to anyone in need of finding musicians for their wedding ceremony – in fact, we already have."

"My wife and I both thought that High Society put on a performance at a wedding that I have yet to see equaled. Not only was the quality of the music excellent, but the song selection kept everyone out of their seats and on the dance floor the entire time. We have received many wonderful notes from friends and family about the wedding and so many have complemented us on our band selection."

"I wanted to write and tell you how much we enjoyed having High Society play at our wedding. The dance floor was packed the entire night with guests ranging from our wedding party (all in their 20's) to our 80-year old grandparents. It's hard to tell who had more fun! The band was incredibly professional, and far exceeded our expectations. The pianist during cocktails, the quartet during dinner, and the High Society Orchestra themselves, all did a terrific job in setting a mood that was just what we were hoping for. They played a wide variety of songs that got everybody to the floor at some point in the evening. Lastly, I just wanted to let you know how much I appreciate your professionalism in fine tuning the details of that evening. Thank you for making our wedding reception a night we will relive forever!"

"We want to thank you and your outstanding orchestra, High Society. You were unbelievable… beginning with the ceremony and through the end of the reception (which lasted until 1:30 am!!!) Thank you again… and be assured that you are on the top of our list for our next party."

I actually attended a wedding where High Society played [as a guest] and thought they were a fabulous group – very interactive. I would recommend them to anyone, especially for a wedding.

It Was Such a Pleasure! It was such a pleasure working with you August 11 at the Greco Wedding. The dance floor was packed all night and i heard many Rave Reviews from the guests. I would love to work with you again.

You really out-did yourselves with your talent and energy! Thank you for a FOURTH great O'Rourke wedding!

We loved High Society. They were an amazing part of our wedding. The ceremony music was gorgeous, the quartet during dinner and cocktails was nice, and the band for dancing was incredible.

High Society was amazing! The dance floor was full the entire time and our guests are still talking about it.

Top notch! I hired the High Society Orchestra for my July wedding and I could not have been more pleased.

The band was talented, charismatic , and our guests absolutely loved them! The dance floor was NEVER empty.

The band is tight and their repertoire seems limitless.

They actually made the party! After the wedding, the compliments just rolled in. We were so happy! Let's get to the point - THEY WERE AMAZING!! Great singers and performers.

I can't thank you enough for the fabulous wedding music – your band – orchestra – was beyond belief and YOU made it perfect It has been a true pleasure to work with you!